BioPharma Asia Convention 2015

From 250 to 4195 SGD
Title:
BioPharma Asia Convention 2015
Specialty:
Clinical Biochemistry
Dates:
From Mar, 23, 2015 to Mar, 25, 2015
Location:
Singapore, SINGAPORE
Registration Cost:
From 250 to 4195 SGD
Event Venue:
Suntec Singapore Convention and Exhibition Centre #
Singapore, SINGAPORE
Whether it is a strategic corporate meeting or a light-hearted celebration of corporate success; we have flexible packages to suit your needs.
Our space allows you to be creative with your events.
Suntec Singapore is centrally located in the Marina Bay area with ample parking spaces and easy access to public transportation, restaurants, shopping and entertainment.
With a passion to host and serve, our dedicated Experience Managers are at your service to provide a single point of contact.
Backed by highly trained and capable Suntec experts, approved partners and alliances, our entire team works seamlessly to ensure that your expectations become reality. Impeccable service and creative menus by our culinary team compliment every event. No event is too big or too small for Suntec Singapore Convention and Exhibition Centre
Visit the Venue to read more
Concerned Audience:
Medical_Professionals
Medical_students
Nurses
Welcome message: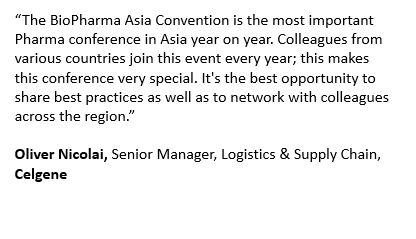 Registration Cost
Early Registration

2015-01-14
Late Registration
From: 2015-01-15
To: 0--
3 Day Premium Package
3995
4195
0
2 Day Premium package
2995
3134
0
BioPharma Asia Industry Awards Dinner Ticket
250
265
0
Exhibition Pass
0
0
0
Group Registrations:
Group registrations not allowed
Accompanying Persons:
Accompanying persons not allowed
Registration Documents:
Letter of invitation:
We don't provide letter of invitation
Letter of confirmation:
We don't provide Letter of Confirmation
Proof of professional / educational status:
We don't need Proof of professional/educational status
Online Abstract Submission:
We don't accept Online Abstracts
Accommodation:
Suntec Singapore Convention & Exhibition Centre

We have special rates for conference delegates available at the Marina Mandarin Hotel which is in close proximity to Suntec.
For more information details regarding taking advantage of these special rates: Call +65 6322 2770
- See more at: http://www.terrapinn.com/exhibition/bio-asia/venue.stm#sthash.hhCiapCL.dpuf
Scientific Content
Up to Date
General Info
Terrapinn Pte Ltd
1 Harbourfront Place
#18-01 Harbourfront Tower 1
Singapore 098633
Tel: +65 6222 8550
Fax: +65 6226 3264
enquiry.sg@terrapinn.com
- See more at: http://www.terrapinn.com/exhibition/bio-asia/contact-us.stm#sthash.B5BHWP3j.dpuf
Organising Agency
Terrapinn Pte Ltd
1 Harbourfront Place
#18-01 Harbourfront Tower 1
Singapore 098633
Tel: +65 6222 8550
Fax: +65 6226 3264
enquiry.sg@terrapinn.com
- See more at: http://www.terrapinn.com/exhibition/bio-asia/contact-us.stm#sthash.B5BHWP3j.dpuf